 Magento Redesign & Upgrade to 1.9 for ShanaLogic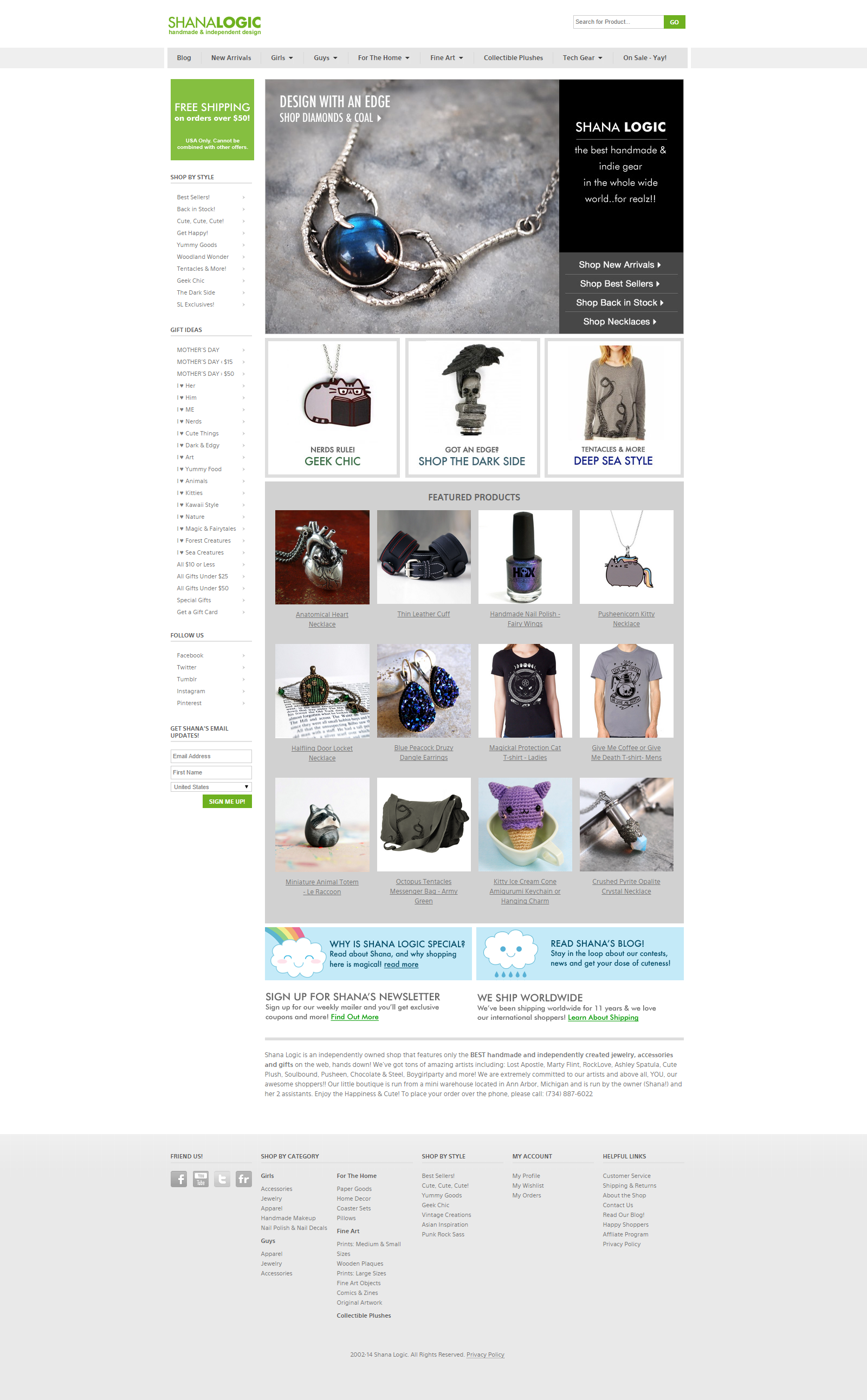 ShanaLogic is an online marketplace based out of Ann Arbor, Michigan and run by one woman, Shana. The online shop specializes in selling 100% handmade designs that have a certain "geeky" or "indie" vibe to them.
As the founder and owner, Shana operates with the goal of giving people an alternative to shopping at chain stores while introducing shoppers to talented artists, designers and the modern craft world.
Shana initially reached out to Cadence Labs for help with marketing, but after an assessment of the site we decided it was time for some updates. We moved Shanalogic.com to a new responsive theme and upgrade her site to the newest version of Magento (1.9). Now she has a great looking and powerful site to run her online business from.
Responsive Magento Design
We helped to implement Shana's design to create a custom responsive website that would translate across all types of devices. This work included:
An Easy to Edit Slider
Easy-to-edit sliders are great for keeping your website fresh, allowing for an accessible way to feature new products or announce special events and sales.
Separate Calls-to-Action for Mobile Devices
Mobile shoppers need to get to the goods quickly, so instead of sliders we used some custom mobile calls-to-action to draw new customers into the site.
Improved Sidebar & Filter Navigation
A website that's easy to use makes it easy to shop.
Responsive 1-Step Checkout
With a checkout page optimized for all devices (PC's, mobile phones, and tablets) customers can checkout easier than ever.
Magento Upgrade
In order to make sure this client had a secure and fully functional website, we upgraded the site to Magneto 1.9. As the site was already customized, upgrading the website required us to re-do some of the site's custom code to work with the new version of Magento.
To finish out the transition, we also upgraded some of her existing extensions and removed unnecessary ones. To do this we ran an audit on the site to try and identify what extensions were no longer in use. However, sometimes things you think are not being used actually are, which is why it's so important to test a site after an upgrade.
The Results
The new site is up and running now! We've been monitoring it now for a couple weeks and are keeping our eyes on the results in tools like Google Analytics and Webmaster tools. Here are a couple highlights post-upgrade and redesign.
Mobile Traffic Increased

30%

30%

Bounce Rate Decreased

6%

6%

Mobile Sales Increased

7%

7%
Interested In Working with Cadence Labs?
Cadence Labs is a digital marketing, website design and Magento eCommerce agency based in Boulder, Colorado.