 Upgrade and redesign for At Home Seminars
At Home Seminars is an online continuing education course provider where Physical Therapists, Occupational Therapists and Athletic Trainers can buy courses and take classes to meet their continuing education credit requirements. The website was originally developed without a responsive design and the team at AHS was concerned their outdated design was costing them sales.
Cadence Labs worked with the team at AHS to come up with a plan for updating the site, redesigning the theme and improving the overall user experience. After running an audit on the Magento site we determined the cost for their upgrade and redesign. Developed mockups of how the new site would look. Completed the upgrade and redesign. Finally, we added new extensions for improved search, one step checkout and SEO, so the site will work and perform better all around.
Redesign for Magento and wordpress
We started our project for AHS by creating several different mockups of how the site would look. Since they use a combination of Magento and WordPress to mange their website, we wanted to create a mockup that would give them a sense of how both these platforms would look. We also wanted to make these platforms seamless, so we included both Magento and WordPress elements in the header and footer.
From the three options we presented, AHS selected the mockup shown here. They provided us with a few rounds of feedback from which a finalized mockup was created. Our next step was to build-out this mockup into an actual theme for both platforms.
We started with the header and footer in Magento, creating a custom responsive theme based off Magento's base RWD (Responsive Web Design) theme. Next we updated the WordPress side of the website to match the mockup. Here we used DIVI as our theme, pulled in our Magento header and footer, and made a few other customizations to the WordPress child theme.
The end result was a seamless website from a customer's perspective – that gives the admins the power of both Magento for eCommerce and WordPress for the CMS. Learn more about our Magento / WordPress integration here.
Upgrade and new features
Beyond improving the website's overall look, we wanted to make the website easier for customers to use. We also wanted to improve an existing integration between Magento and SugarCRM. The end result was a website that was easier for everyone to use and update – from customers, to the AHS team, to our team of developers.
Improved Search
We improved upon Magento's out of the box search functionality and taught the team how to optimize results as data is gathered.
One Step Checkout
By adding a more streamlined checkout, we helped to cut down on cart abandonment.
Category Filters
AHS wasn't taking advantage of existing functionality in Magento, so we setup their category filters to make shopping easier.
Product Relations
All of AHS' products come in three kinds: Download, Paper or Shared. We added an area for them to show other options of a product on all their product pages.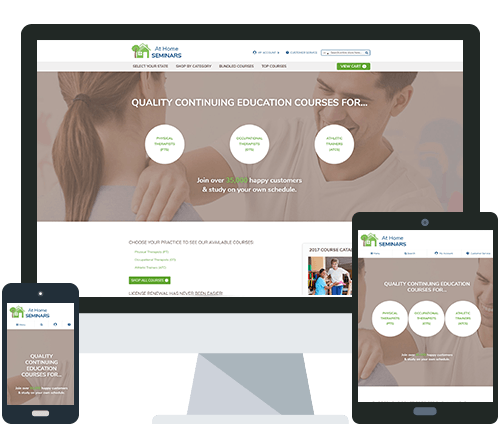 Responsive Design
By updating the site to use a responsive design we fixed not only issues for customers but also improved the site in the eyes of search engines. Google ranks websites based on their compatibility with different devices, so by not having a responsive design AHS was missing out on traffic. The site now passes Google's Mobile Friendly test, meaning it will now rank for customers searching from their phones or tablets.
Interested In Working with Cadence Labs?
Cadence Labs is an eCommerce design and development agency based in Boulder, Colorado.