 Migration to Magento 2 from Big Commerce for Lems Shoes
Lems Shoes 
is a family owned company based in Boulder, CO that manufactures and sells sustainable, minimalist shoes. With their unique design, featuring a wide toe-box, flexible material, and zero-drop platform, these shoes have the ability to correct foot ailments and posture issues.
Lems came to us with a spreadsheet of issues they had experienced on Big Commerce. The platform and their current support team were not providing the functionality or solutions that Lems needed to grow. After reviewing their issues and learning about their continued growth plans, we suggested migrating them to Magento 2. By switching to a more customizable platform we knew we could implement some of the features and solutions that Lems needed to support their growing business.
What makes Lems Shoes better for you?
Lems' shoes come in lots of styles, but what really makes them so popular are some of their less noticeable features. The shoes are made to fit the natural shape of your foot, have a zero-drop platform and can be packed away since they are flexible. These key features are the real selling point of for Lems'. We wanted to highlight these features right on the homepage for customers. To do that we developed a custom slider to show just how different these shoes really are!
Improvements over Big Commerce
One of the main reasons Lems Shoes wanted to move off the Big Commerce platform was that they were not getting the features and support they needed. We worked with them on a discovery project to outline their needs and make sure those needs were met in Magento 2.
Improved Product Pages
One of the main issues for Lems Shoes was the product page. We helped them keep their existing design but improve the overall functionality of the page.
Previously the other colors of shoes on the page did not take a user to a new URL, this caused confusion for customers trying to share a specific color. We used Magento's related product feature to fix this issue for Lems.
Another pain point was the sizing; we added tool-tips to each size so users could easily find their US size. We also included a popup for the sizing chart so customers were no longer navigated away from the product page.
Finally, Magento 2 allows us to include product videos as part of the image slider, which helped move the video above the fold.
Wholesale FOrm
We made wholesale ordering easier than ever with a simple 1 page wholesale form  and automatic customer discounts for these B2B customers.
RMA Functionality
Previously the Lems team was managing their RMAs manually. Now they have an automated form and process that cuts down on customer service work.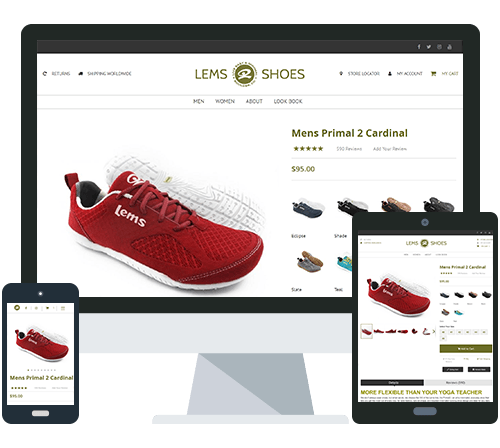 Responsive Design
Magento 2 is one of the most modern platforms out there and comes with an amazing amount of responsive design capabilities. Using Magento's UI Library we built Lems Shoes using LESS, KnockoutJS, and jQuery UI, then complied with composer for fast loading.
We based the new site on the old theme, but included a number of design and atheistic improvements which help make the new site look cleaner overall. No matter what the devices Lems' site looks and works great.
The Results
The new site is up and running! We've been monitoring the site since the launch and are happy to report that Lems' investment in Magento 2 is paying off for them. From reducing manual work for their team to improving their site's statistics, the new site is out-performing the old.
Overall Conversion Rate Increased

23%

23%

Mobile Conversion Rate Increased

33%

33%
Interested In Working with Cadence Labs?
Cadence Labs is a Magento 2 design & development agency based in Boulder, Colorado.