Migration from Magento to Shopify
In 2014 we helped Colorado Limited migrate from Volusion to Magento. At the time, Magento was the best option available for their business—it provided integrations, SEO capabilities, multi-storefronts and more features which Colorado Limited was looking for. However, with the release of Magento 2 and the steady amount of improvements to Shopify, it became clear that instead of upgrading to Magento 2, Colorado Limited would be better off on the Shopify platform.
The migration from Magento to Shopify was completed in just a few weeks. We were able to migrate all of their critical data (orders, customers, products, etc.) and set up integrations such as Amazon that had only been available on Magento years before. The new site is easier for the client to manage and will help save them from large development costs in the future.
Affordable Responsive Design
Responsive Layout
Shopify's easy to setup and customize themes make developing a responsive website a breeze! We used the Pacific theme to create a great looking website that matches Colorado Limited branding and highlights their products across all devices.
Optimized for Sales
It's the little things that can make a big difference in conversion rates. So we optimized everything we could for mobile from the images to the checkout.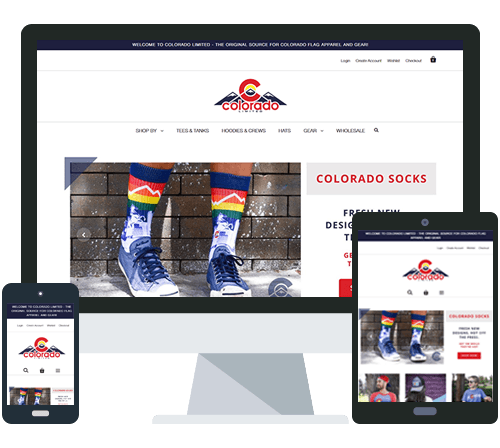 Newsletter Popup
Getting newsletter subscribers is hugely important for eCommerce sites! There is no better way to collect these then displaying a popup.
Amazon Integration
Getting in front of customers on Google isn't the only thing you have to worry about, you also need to be in front of customers on Amazon. That's why we integrated the new Colorado Limited site with Amazon.
Easy Order Status
To help take some of the burden off the customer service team we added an easy order status page. Now customers don't need a login to see where their order is at.
Men's or Women's?
Many of  Colorado Limited's products are unisex, which can be confusing for customers who are looking for a men's or a women's size. To make it more obvious to new customers we included super simple icons to identify who can wear certain products.
Google Shopping Feed
When your competition is big sites like Zazzle and CafePress you need to make sure your products are everywhere they are! That's why we included a Google Shopping Feed on the new Colorado Limited site. Now their products show up right next to the big names.
Advanced Slider Animations
Everyone wants to have a little fun with their new website! To show off we added some advanced slider animations to the Colorado Limited site… no worries, they don't slow things down.
Interested In Working with Cadence Labs?
Cadence Labs is a digital marketing, website design and Magento eCommerce agency based in Boulder, Colorado.