Magento + WordPress build for Sixpenny.com
From concept, to reality!
Sixpenny's
founders started working with us to
blue sky
ideas for their new furniture website. We helped them turn those ideas into a real, working website. Our team offered guidance during the initial design phase, helping them to create a one-of-a-kind website to sell their direct-to-consumer furniture. From the swatches (fabric options) to the search results, we built the 6P website with user experience in mind.
During the development phase of the website we worked off mockups from their designer to complete the site, page by page. Allowing their team an opportunity to review the site in an agile style. We tested and revised as we went, helping to keep the project moving forward while other designs were finalized.
At the end of the development phase we trained the entire team on using Magento and WordPress. Allowing a startup company the capability to start editing and marketing the site immediately.
Today we provide ongoing consulting, support and development for this truly one-of-a-kind Magento website.
We implemented Sixpenny's designs to create a beautiful, custom, responsive website. The highlights of our work include:
Easy to Edit Sliders
We set up custom designed sliders for use on the homepage, category and info pages throughout the site. Each one is completely editable by the Client's team.
Reformatted Mobile Product Pages
The desktop design highlights a fixed add to cart area, however this functionality would not work on smaller screens. Using custom JS we inserted the add to cart area directly below the product image.
Full Screen Search
To really make searching easy we used a full screen search that displayed a small segment of results so a user can preview results before needing to reload the page.
Product Meters
To give users a sense of how each product feels in the real world we created a series of Meters for Fit, Seat, Distress and Clean.
Swatch Products + Ordering
Each product on the Sixpenny site can be manufactured with a different Fabric or Wood options. We created custom functionality so swatches can be ordered directly from a regular product page.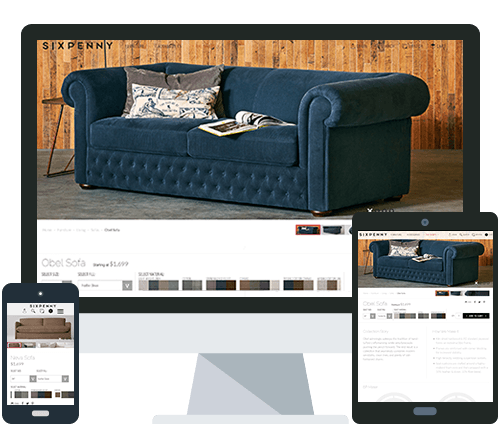 Responsive + Seamless
Selling furniture online is not easy. We worked hard to create an image-rich website that looks great across all different devices. By using custom JS to make layout updates on mobile only, we helped keep the overall development costs down. While on desktop we used JS to make sliders and other components work cleanly across all desktop and laptop screen sizes.
The Sixpenny team is focused on marketing and design, so they do not have anyone on staff familiar with HTML or CSS. Still they needed a way to create beautiful landing pages and tell the story behind their products. We integrated Magento and WordPress to create a seamless frontend experience, while at the same time giving the Sixpenny team content editing power of WordPress. Now they can handle creating attractive pages like Meet Sixpenny themselves.
The Results
The new site is up and running, taking sales and ranking on Google! The client is now working with us to maintain and further improve the site as user data comes in.
We invite you to check out one of our best websites yet and see just how flexible and powerful Magento can be for eCommerce.
Interested In Working with Cadence Labs?
Cadence Labs is a digital marketing, website design and Magento eCommerce agency based in Boulder, Colorado.