 Redesign and Migration to Magento from Shopify for MHM Gear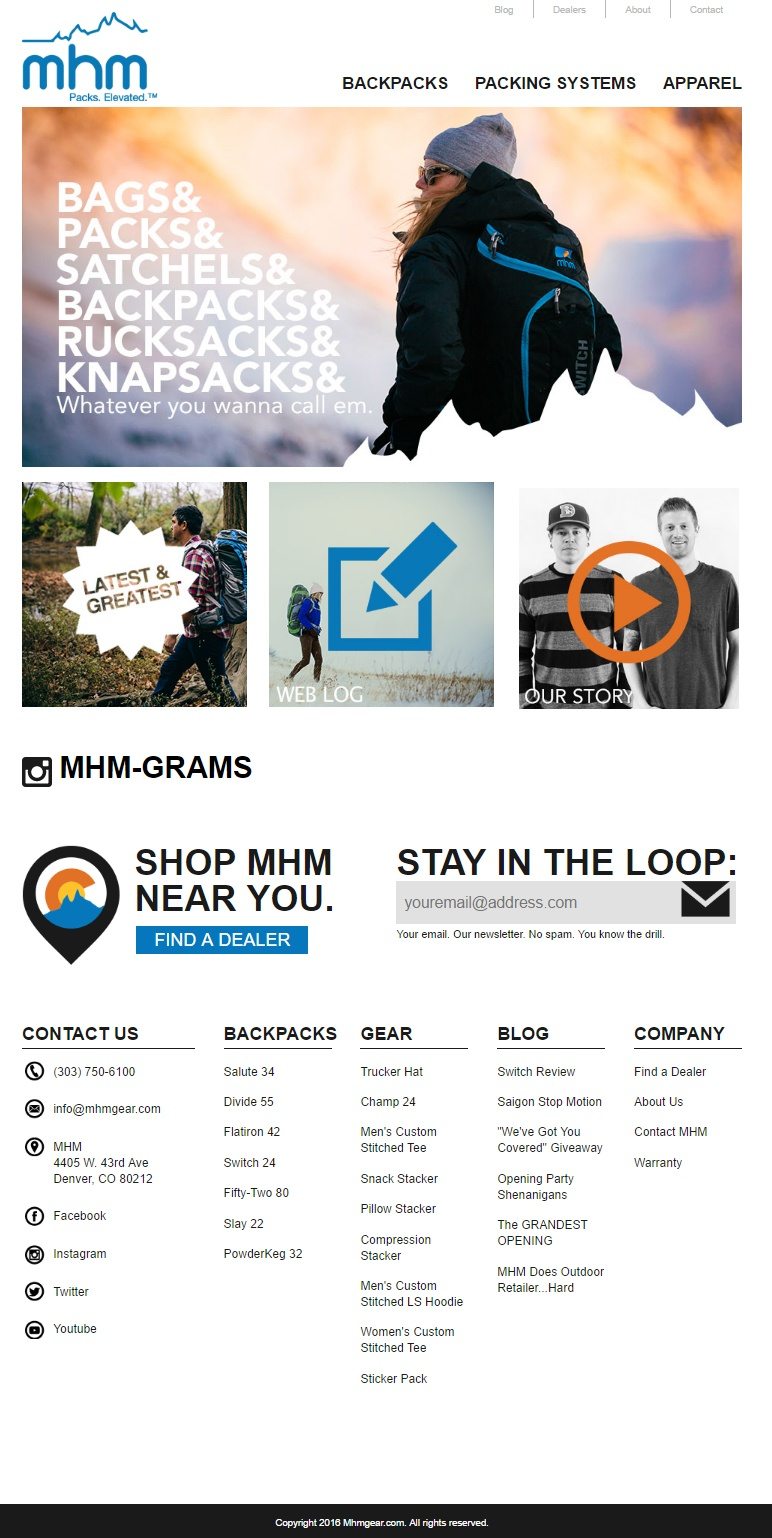 MHM Gear is a direct to consumer hiking & mountaineering backpack manufacturer located in Denver, CO. They needed to move their old website off of a combination of Shopify and CraftCMS and on to a more capable platform – Magento. For this site we used Magento for the storefront and WordPress for their blog and CMS pages.
Now the team at MHM Gear has full control over all their website's pages. By moving to Magento they were able to streamline their business (by having just one platform for all orders). The new product pages show off each backpack in full 360 degrees, give the customer tons of information about what each backpack is ideal for, and show off the benefits of purchasing directly from the manufacture.
MHM Gear came to us with an XD mockup of the site. We took their mockup and implemented the design for them from end to end, building custom functionality where needed.
Custom navigation menu
To really show off the bags we built a custom menu that shows each of their products in an outline with an on hover display of the product's name.
Easy to Edit Sliders
We built easy to edit sliders on the homepage and product pages to really show off MHM's lifestyle photography.
Magento / WordPress integration
With a seamless header and footer MHM's customers will never notice as they transition between Magento and WordPress pages on the site.
Product Features
Using a combination of text and images we built a custom product feature display that showcases each product's unique elements.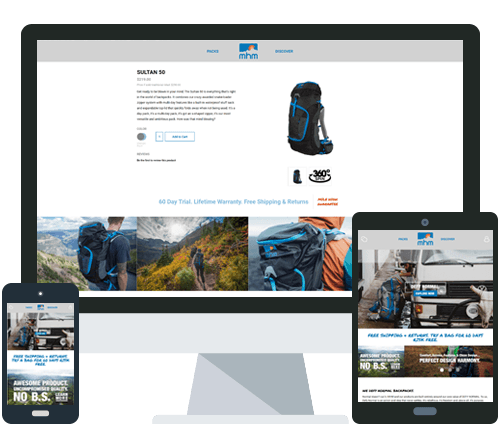 Responsive Design
In order to make sure this client had a secure and fully functional website, we worked with them to clean up their existing Magento install. We upgrade the site and necessary extensions, and performed a site audit which gave us a path for cleaning up their Magento install before moving the MHM site onto it.
From there we created a custom responsive Magento and WordPress theme. We added custom attirubtes and functionality for the client so they could display product features and create custom sliders. Finally we integrated Magento and WordPress to make the site appear seamless for customers.
The Results
The new site is up and running now! We've been monitoring it now for a couple weeks and are keeping our eyes on the results in tools like Google Analytics and Webmaster tools. Here are a couple highlights post-upgrade and redesign.
Conversion Rate Increassed

78%

78%

Mobile Sales Increased

40%

40%

Bounce Rate Decreased

18%

18%
Interested In Working with Cadence Labs?
Cadence Labs is a digital marketing, website design and Magento eCommerce agency based in Boulder, Colorado.