New Website Design for Old Dominion Home Care
Old Dominion Home Care is a family-owned business providing home care services in the Northern Virginia region. They work with a wide variety of elderly clients who have needs ranging from companionship to providing respite care for their families.
At Cadence Labs, we started by creating several "vignettes" for the ODHC's team to review. By starting with a variety of smaller samples, the team could preview just how the website would look without wasting time or money. This is just one way that we help small businesses save money on website design.
Small Business Websites With WordPress
Design
From picking out a selection of stock photos to implementing the final design, we were there to help Old Dominion Home Care with a complete website redesign.
Extendable
Old Dominion Home Care is looking forward to phase 2 where they will be able to provide more resources and information directly to their clients and caregivers. Thanks to WordPress, extending their site in the future will be easy.
SEO
As a small business the last thing you need to worry about is SEO (search engine optimization). That's why we set up Old Dominion Home Care with a fully optimized website and took care of submitting them to search engines.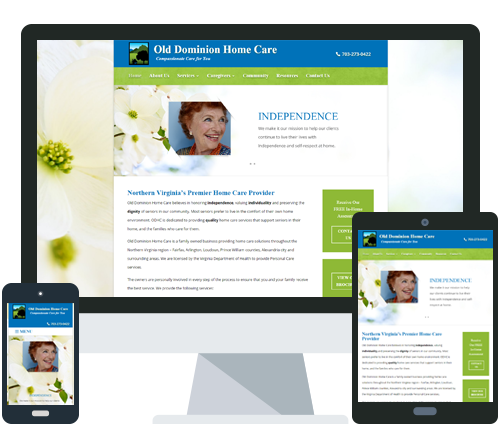 Responsive Design
Imagine being in the hospital with a sick loved one and trying to find support services online. By making ODHC's new website responsive we've made that task much easier on their potential clients. An easy to read and browse website is incredibly important for any emergency situation where your customers don't have access to a regular computer.
We also included some additional elements such as a font re-sizer. This way potential customers with poor eye sight can easily enlarge the font and read the content they need.
The Results
Old Dominion Home Care's new website looks great and is getting lots of compliments. In time we'll post some actual data demonstrating the improvement the new site has over the old.
Interested In Working with Cadence Labs?
Cadence Labs is a digital marketing, website design and Magento eCommerce agency based in Boulder, Colorado.