Website for Mountain Botanicals
Building a new website for Mountain Botanicals
Christy, the owner of
Mountain Botanicals
, came to our team at Cadence Labs for help creating a website for her business. While she has had the business since 1997, she hadn't yet created a website for the company—and that's where we came in.
We helped her plan the webpages that she would need for a successful website and then started the design process by creating vignettes (2-D mock-ups showcasing potential web designs). Once a vignette was chosen, we laid out the website, dropped in all the content and pushed it live.
Now Mountain Botanicals has a beautiful new website that will help Christy to grow her business—and continue growing and caring for her beautiful plants.
Small Business Websites with WordPress
Easy To Update
Small businesses need to know how to manage their content—that's why we trained both Christy and her son Garret so they can keep the website up to date in the future. WordPress helps to make this process easier for small business owners who may not have a background in web development/management.
Design
We worked with Christy by creating vignettes, so she could pick a design that she liked without wasting money on a full website design.
SEO
We worked hard to ensure that each of her pages were optimized for search engines and helped Christy develop the content on her website. We also submitted the new site and set up helpful tools like Webmaster Tools and Google Analytics for reports and management after the site went live.
Image Enhancements
We helped touch up all of the photos for Christy's website to keep them looking sharp and intriguing for future potential customers.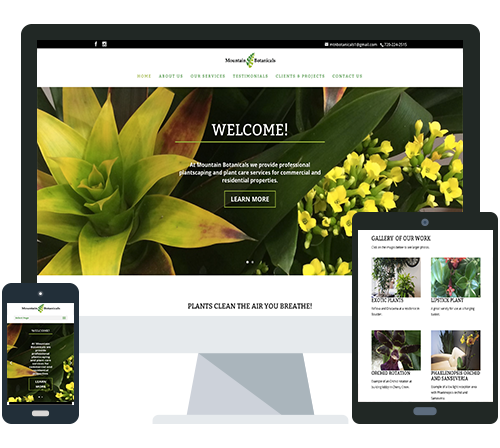 Responsive Design
In this day and age, websites aren't only accessed via computers because smartphones, tablets and the like are being thrown into the modern mix.
We all know the inconvenience of trying to search for info on the web, only to find that the desired website never loads or is impossible to view if you're not on your computer.
With this experience in mind, we made Christy's Mountain Botanicals website responsive so her potential customers wouldn't be turned away because of a dysfunctional loading experience. Now, visiting Mountain Botanical's site is streamlined and easy, no matter which device you're accessing it from.
Interested In Working with Cadence Labs?
Cadence Labs is a website design, development and Magento eCommerce agency based in Boulder, Colorado.