Website Development for DragonVale World
DragonVale is a successful mobile game from Backflip Studios here in Boulder, Colorado. The game allows users to collect dragons, play mini-games, visit with friends and participate in regular events.
DragonVale World is a new game that is based on the original DragonVale game. The game will be coming out soon, so Backflip wanted to entice their current user base and others to preregister for the game. To incentivize users to preregister they are also offering a starter bonus for the game. To accomplish this they needed a new website for DragonVale World where users could preregister, and that's where Cadence Labs came in.
Cadence Labs worked with the team at Backflip to provide design specifications and other recommendations for their internal team. Once designs were ready, Cadence Labs implemented the designs for both desktop and mobile sites, setup the Mail Chimp and Mandrill integrations and implemented translations for 10 languages.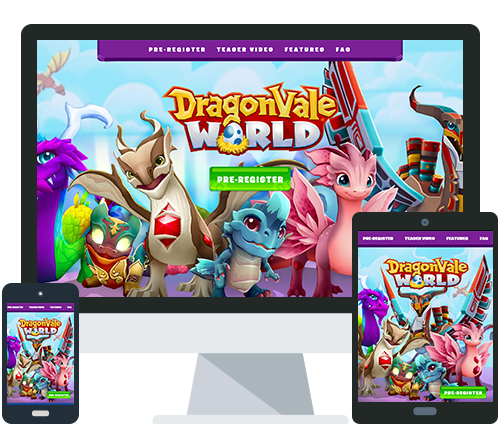 Preregistration Website with WordPress
Different Desktop and Mobile Designs
Using large, wide background images on the desktop site was a must for this design. However, these images do not translate well when displayed on a mobile screen. Dragons on the left or right are cut off, which means the majority of users would not get the full experience. To get around this we setup a separate set of background images just for mobile.
Translations
DragonVale is a very popular game with users all over the world. That's why it was so important to provide translated versions of the website for 10 different languages. We used manual translations to get the context right. Then added in a layer of GeoIP detection to direct users to the right translation.
Preregistration
We used a one page layout to direct users right to the important features of the game. From there we present them with the opportunity to preregister for free bonuses during the first week of the game. Users give us their age, OS and email so we can email them at launch with a link to download from Apple or Google's app store.
Email Template
The final component of the website was setting up the confirmation email template for the Backflip team. This email, for legal reasons, does not go out to players under 13. However, all other players receive the email with a link to share the game with their friends, thus encouraging more preregistrations for the game.
Interested In Working with Cadence Labs?
Cadence Labs is a website design and development agency based in Boulder, Colorado, that specializes in unique and custom WordPress websites.