 Website Redesign for The Synergy Company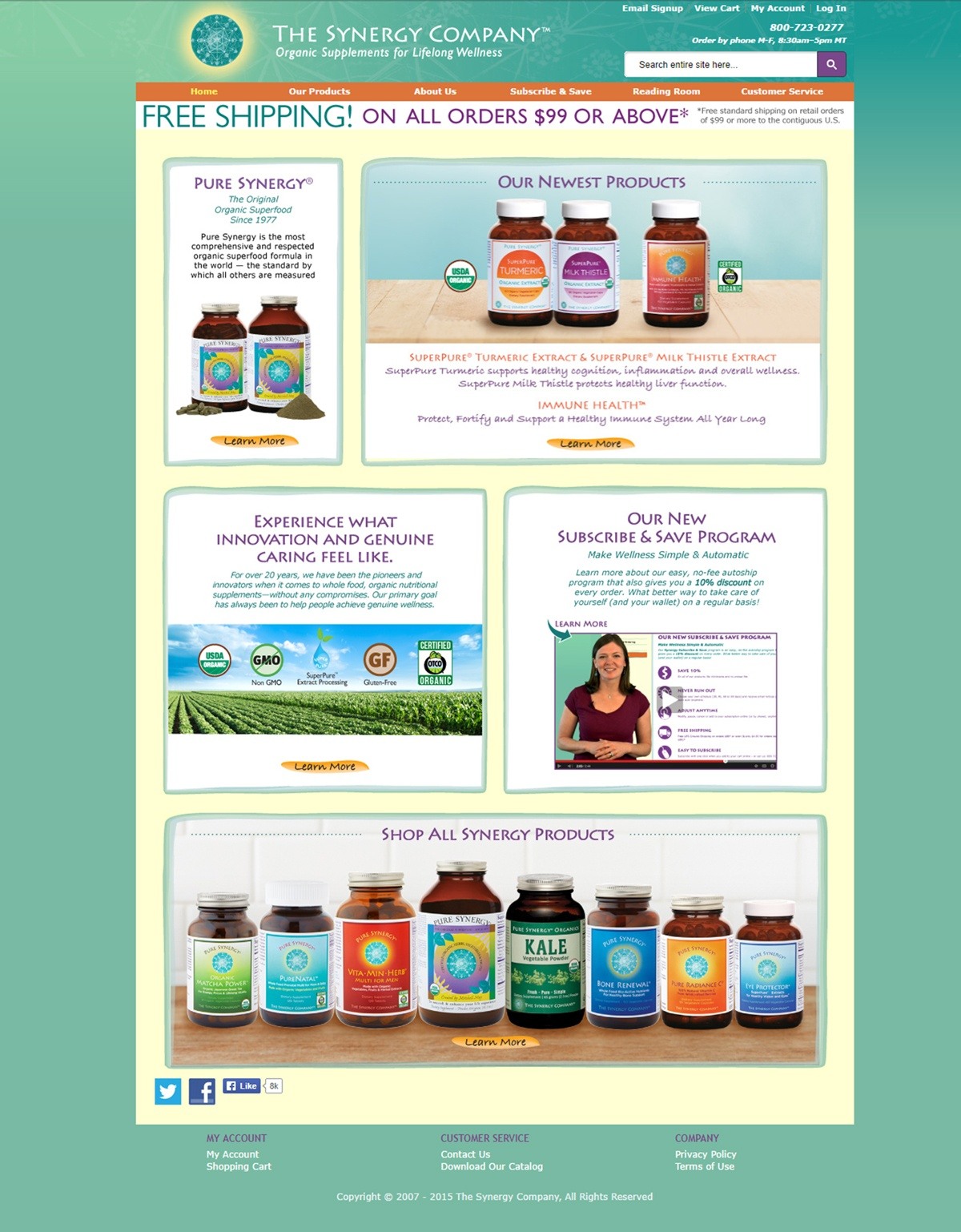 The Synergy Company
 sells a wide range of organic, high quality supplements which they manufacture in Moab, UT. Each one of their supplements has an extensive amount of literature and certifications that go alongside the product to help it stand out amidst the thousands of supplements sold online.
Synergy's team initially reached out to Cadence Labs to help them update their website's design. While already using the Magento platform, they still needed to reformat and revise much of the content on the website in order to achieve a great new look. Together we worked on a plan of action for the website that included building custom functionality and re-theming the website.
Redesigning, from theme to content
During a meeting with the Synergy team, we identified that not only the design needed to be updated, but the content on the site needed to be reformatted so users could digest it more easily. To achieve an easier to use and read website, we implemented the following custom features:
User Friendly Product Filters
By organizing the products in one easy place where users can filter by Health Goal, Lifestyle, Category and Form, we made shopping the wide range of supplements easier.
Certifications
Each product has a range of certifications from USDA Organic to Vegan. We displayed these branded certifications on the product page and included a
glossary
where users can research further.
Ingredients
Ingredients are the most important part of a supplement. To help consumers better educate themselves we created a visual listing on product pages and glossary to help users get the ingredients they want and avoid the ones they don't.
Learning Center
The Synergy Company had a ton of old content, blog posts, research articles and more that they wanted to share with their consumers. We used our Magento and WordPress integration give them the tools they needed to create a
Learning Center
.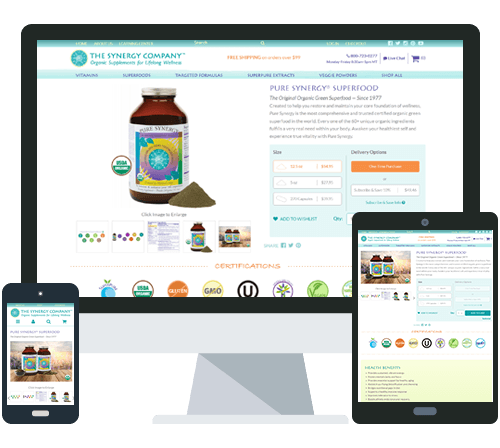 Increasing the conversion Rate
In order to provide customers with the best experience possible while shopping The Synergy Company's website, we updated their static layout to a responsive design. The new responsive design has opened up a whole new market of younger customers for the company to target.
To improve the user experience we also included ajax add to cart, filter and wishlist functionality. Now customers can add items to their cart or wishlist directly from category pages and blog posts. Filters are applied without reloading the page. All of this makes it easier and faster for a customer to complete checkout.
Interested In Working with Cadence Labs?
Cadence Labs is a digital marketing, website design and Magento eCommerce agency based in Boulder, Colorado.