Redesign for Guerrilla Gravity
Guerrilla Gravity builds highly-refined mountain bikes that are optimized for speed with frames that are designed and built right here in Colorado! This client came to us looking for help supporting their existing site which included a custom app. After taking over ongoing maintenance from their previous web developers we launched into a redesign of their site.
The site wasn't the only thing to get a face-lift. Behind the scenes we also made changes to their custom app which powers their bike customizer interface. By changing how this worked and how the content on the site was structured, our team was able to make a big impact for GG across the frontend and backend of Shopfiy!
The new site includes:
RESPONSIVE LAYOUT
Shopify's themes are made to be responsive – making the new website easier to use for all GG's customers be they on their home computer or looking up bike specs from the mountains.
Custom App
To power the bike customization on the product pages we updated the custom app to make customizing the bikes easier with improved UX. We also updated it to show the pricing and spec changes with each customization choice.
Real-time Inventory
With an integrated system, the website now correctly shows what items are currently available for purchase and the item's delivery timing.
Easy to Edit
Shopify's built in CMS and Theme system make it very easy for anyone to edit and update their website. The updates to the custom app also mean the client has more ability to make changes in mass to their products as parts & prices change.
Build a Custom Mountain Bike
One of the most essential aspects of the site is the build your own custom bike feature.
Theis functionality allows the customer to build exactly the specs and bike they want from an easy configuration interface. This functionality goes beyond a basic variant selection – like for the color and size – which is normally the only kind of options you can have in Shopify.
Here you can see the View / Build Customizer with dozens of different configurations available. Each one impacts price, inventory, delivery timing and shipping rates.
On the backend the client has the ability to update all of the customization options, prices and other aspects to make sure things stay current on their website.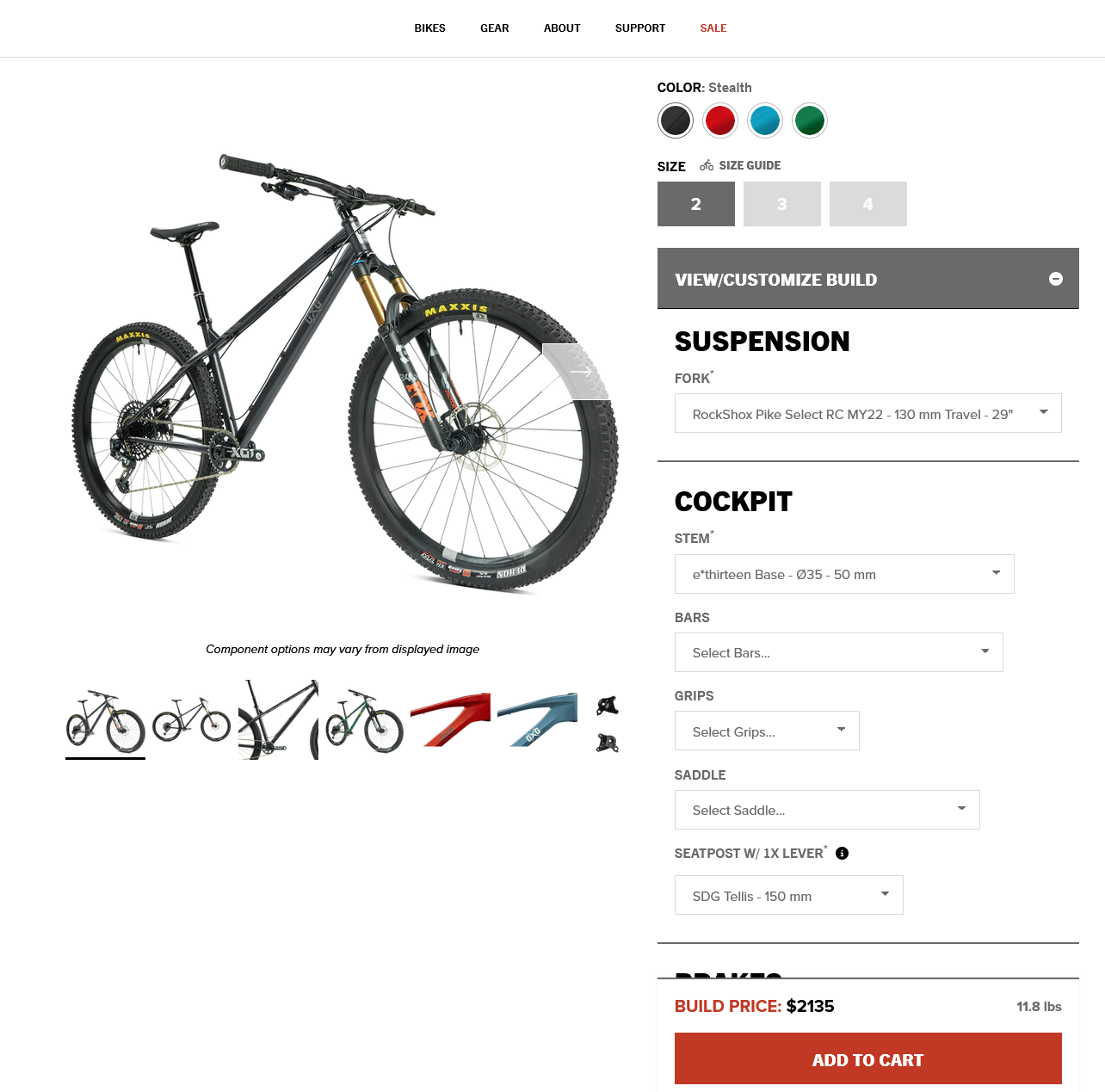 Responsive Design
We polished off the site with a responsive design that fixed many of the issues the client was unable to tackle on their previous website platform. The new site is mobile friendly and fast, making it easy for anyone to order from any device.
We also ran the website through browser and device testing to ensure it worked correct for the vast majority of users.
Interested In Working with Cadence Labs?
Cadence Labs is a Shopify development agency based in Boulder, Colorado.