Design + Website for Catalyst Transformations
Catalyst Transformations + Cadence Labs
We partnered with Brooks & Lisa Witter to develop the Catalyst Transformations brand and website. While still in beta, the website uses WordPress to promote the forthcoming online classes for parents. The website also offers opportunities and resources for treatment professionals who are looking to supplement their coaching.
When the final website launches it will feature a subscription / membership for parents to join and receive online classes. The classes can be taken on the parents schedule, allowing even busy parents to grow and nurture their relationship with their children.
For professionals who are looking for new ways to engage parents in their child's treatment program the website is a great additional resource they can offer.
A Subscription Website using WordPress
Easy To Update
A startup needs an easy way to manage their content—that's why we used WordPress, which is easy to use and maintain.
Design
We started out by doing a round of branding for the Catalyst Transformations business. Once the branding was honed in we created a mockup of the homepage, then used that mockup to implement the theme for the site.
SEO
We worked hard to ensure that each of her pages were optimized for search engines. We also submitted the new site and set up helpful tools like Webmaster Tools and Google Analytics for reports and management after the site went live.
Image Enhancements
We touched up images for the website to ensure they matched the overall brand. Then used Kraken.io to compress the images automatically, so pages load as fast as possible.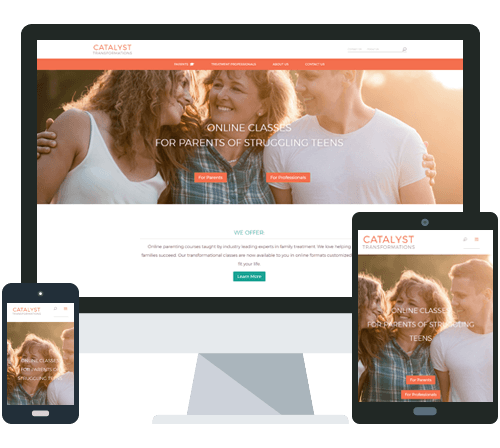 Subscription Membership
The final website will also offer a member's only area where parents can access online classes to help them improve their relationship with their child and grow individually.
Interested In Working with Cadence Labs?
Cadence Labs is a website design and development agency based in Boulder, Colorado.