3-20-2017 – Version 1.2.0: Updated To Support Multiple Events
** Remember to logout and login again after installing the extension! Otherwise you may see a 404 Not Found error!
---
Almost everyone is jumping on board to try Facebook ads these days, but if you don't have easy access to a developer then getting the tracking code implemented isn't easy. Here at Cadence Labs we've created a free Magento Facebook tracking pixel extension to allow store owners to implement this code themselves. Our extension allows you to track anyone who visits your website along with any conversions (purchases) from your Facebook ad campaigns. We now also allow you to track additional events like Add To Cart, Add To Wishlist, View Product, Initiate Checkout, and Search Products.
To set the extension up you'll first need to order the extension from the Magento Marketplace. Once you have installed the extension via your Magento Connect Manager, you should logout and log back in (otherwise you may see a 404 Not Found page). You'll then need to get your tracking ID from the Facebook Ad Manager.
Is Magento Connect not working for you? You can also download and install the extension manually with this: Click here to download the extension as a .tgz
Note that this extension is licensed under the GPL 3.0 open-source license. Click here to read the license.
Version 1.2.0 – Support for Multiple Events Added
This extension utilizes The Facebook Pixel for all events. Please see Facebook's official implementation guide here for more details.
Unlike previous versions of the extension, you need only enter one Pixel ID in the admin. This pixel will be used to track both visit and purchase events.
Get the Facebook Pixel
See the Facebook guide to creating and installing pixels here.
After you login to the Ads Manager, go to Tools -> Pixels
By default, you should see the Facebook Pixel Tab – you will find your Pixel ID on the right side of the screen: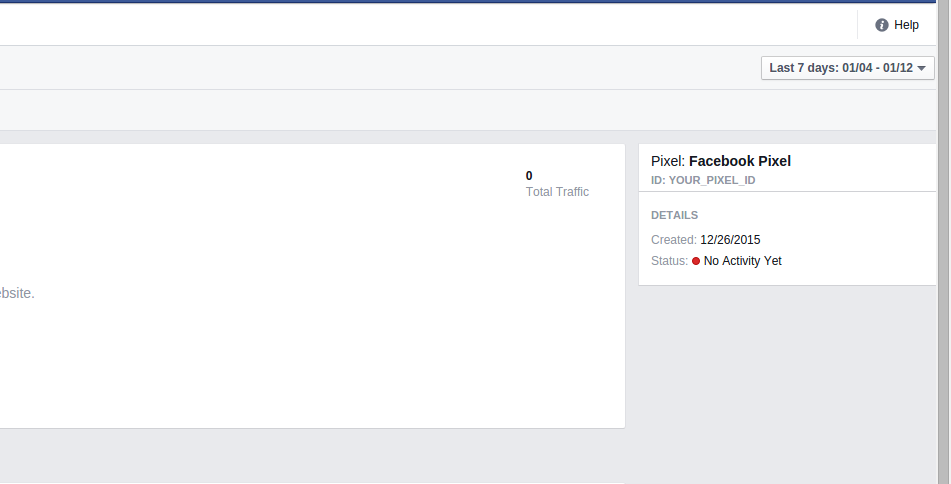 Enter Your Pixel ID
Once you've found your Pixel ID, enter it into the Magneto admin under
System -> Configuration -> Cadence Labs -> Facebook Pixel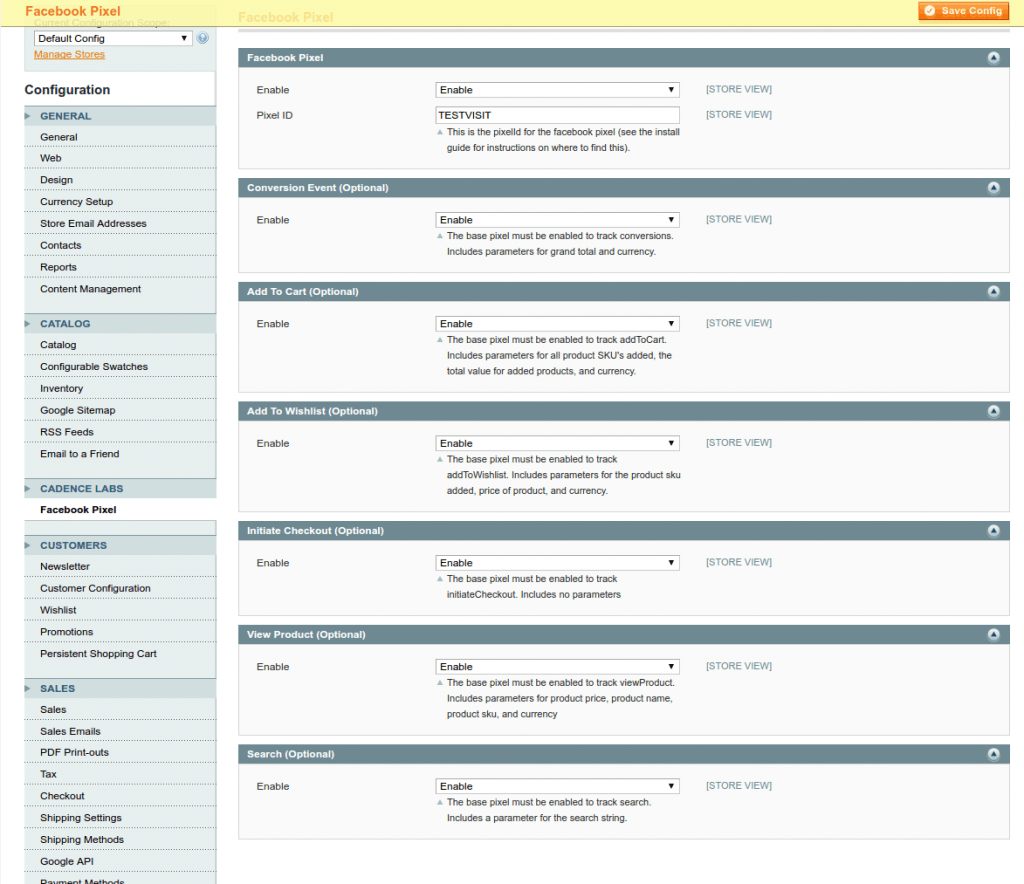 Our Extension Tracks Multiple Events
This extension supports stores with multiple currencies, and tracks the below events:
View
Purchase
Add To Cart
Add To Wishlist
Initiate Checkout
View Product
Search Products
You must enable the events you want to track in the admin.
**At this time Facebook does not track order IDs, products or other information about the purchase. We recommend tracking this information using Google Analytics.
Tips for Remarketing Campaigns
We run a number of re-marketing campaigns for a wide variety of clients on Facebook. In general we find that re-marketing is the most effective type of advertising you can do using Facebook's ad platform. That said, here are some tips to make your re-marketing campaigns more effective:
Use your logo in any Right Side ads
Experiment with ads targeted at users who haven't visited your site in the last 30 days.
Exclude users who have made a recent purchase (this can be done by excluding traffic that has visited your "success" url)
Use your most popular or best selling products in your ad images.
Remind customers of any free shipping over X offers
Experiment with ads that feature popular blog posts.
Need help installing the extension?
We've had a lot of experience developing & installing extensions. If you need help, head over to the Cadence Labs contact page, or email us at [email protected]